Vigan Houses
Vigan's inclusion in the UNESCO World Heritage List is due to the preservation of around 187 residential, institutional, commercial and religious structures that transport visitors to the past. What's amazing about these structures is that they continue to be used by current locals as they were used by former owners who lived in the 18th century. Their structural endurance and relevance to every-day use until this modern day is testament to the genius and high-level of craftsmanship in the creation of these architectural treasures.
Vigan houses before the colonization of Spain were made from light-weight materials such as bamboo, nipa and cogon. These were called bahay-kubo and are airy and easy to clean, but were of no match to the typhoons that visit the land during the wet season, or even the occasional fires. When the Spaniards came together with their Mexican subjects, the locals learned from them how to quarry, prepare the stones and make bricks. They also learned how to make these into fire-resistant building materials by applying lime mortar. Though the structures they constructed using these materials fared better in withstanding typhoons and fires, the structures were still easy casualties of earthquakes.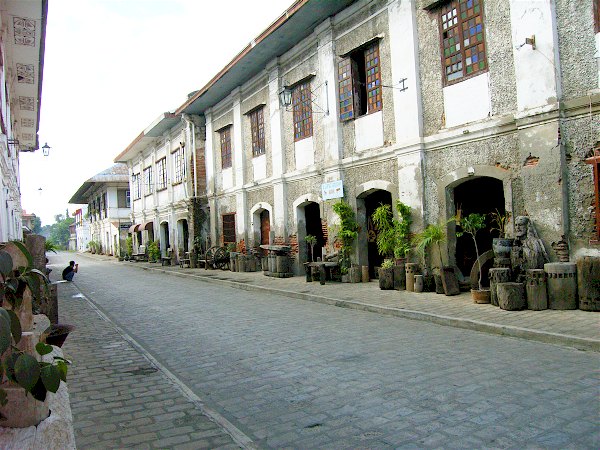 Even though there were some houses whose first and second floors are built in pure masonry that survived the elements, Biguenos still endeavored to find better ways of building. What they did was to mix their indigenous construction methods with that of the Europeans'. They retained the bahay-kubo's interlocking wooden post and beam system. The mortared bricks and stones were used for the walls of the first floor, while the second floors were made largely of timber. This kind of construction proved to weather earthquakes and storms better and can be seen in the preserved houses of Vigan.
Vigan houses are also noteworthy because they are a bit bigger than the usual Asian houses. This is because they not only serve as residences but as shops and storage as well, like those in other trading centers. These storage and shop areas are in the ground floor together with the carriage area. A big staircase leads to the living areas in the upper floors consisting of living room, dining area and kitchen, bedrooms and a toilet. Light and air flow freely. There is usually an open terrace connected to the dining area or kitchen.
Large windows made of wood and capiz shells surround the house with balustered sliding panels in the lower part that allows one to view the streets while sitting on the floor. Roofs and eaves are extended to ward off harsh sunlight and rain. The Biguenos also made use of terracotta and decorative friezes and partitions to show their artistry and add beauty to each function of the house's architectural detail. This mixing of technology of the east and west, function and beauty, has given Vigan houses its unique style of architecture.